This report was originally published by Stefan Stanford at AllNewsPipeline.com
As the Black Death Plague Strikes Madagascar, Might We Soon Witness Bio-Component 'K For Kill Everyone'?
According to this brand new story from The Express sent over to ANP by Steve Quayle, a NEW 'Black Death' has been discovered in Uganda, a virus WORSE than plague with NO cure according to the World Health Organisation (WHO). Just the latest plague 'outbreak' this year, ANP will be taking a look over the next several days at the unusual surge of black death plague and the next story in this series will feature an in depth interview with Steve Quayle.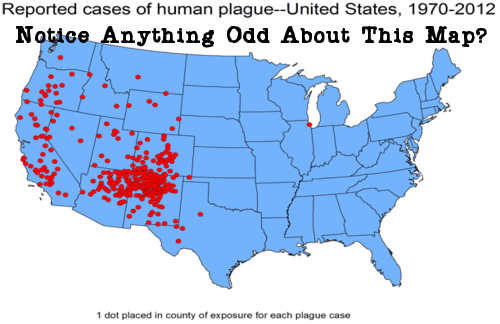 In the map we see above taken directly from the Center for Disease Control (CDC) showing cases of the human plague across the United States between 1970 and 2012, one particular case should immediately stand out.
Back in 2009, a laboratory-acquired infection of Yersinia pestis, the disease that causes the black death plague now causing a panic after wiping out an estimated 60% of Europe's population back in the 14th century, struck a 60-year old man who had been working at a university laboratory in Chicago, Illinois. The only known case of the plague in the eastern half of the US in 40+ years, the case also happened within the 2 years following the 2007 arrival of Wyndham Lathem as a Professor at Northwestern University in Chicago, Illinois, where he was an expert on the Yersinia pestis, the black death plague.
For those who aren't yet caught up to date, Lathem, one of the world's most reknown 'black death' researchers, was recently arrested and incarcerated for a sexual fetish murder and Click to see the original article